Hearing Assistance System:
All Parishes are equipped with The Loop. Activate t-coil on your hearing aid or ask for a device.
Our Lady of the Holyland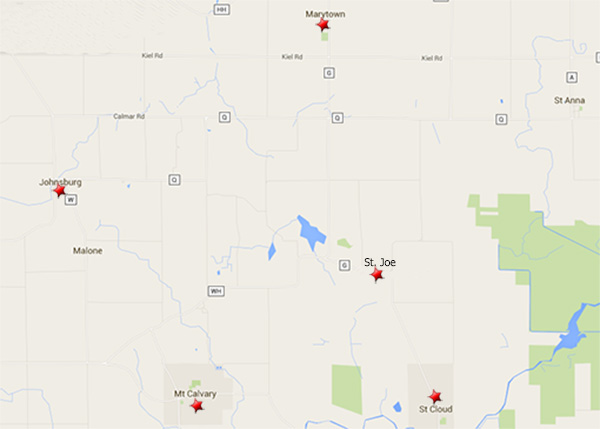 Holy Cross Church
308 S. County W
Mt. Calvary, WI 53057
Saint Cloud Church
924 S. Main Street
St. Cloud, WI 53079
Saint Joseph Church
W620 County G
St. Cloud, WI 53079
Saint Mary Church
N10232 Hwy G
New Holstein, WI 53061
Saint John Church
N9288 Hwy. W
Malone, WI 53049
Vision Statement:
As disciples of Jesus in the Holyland, love unites us beyond all difficulties. God will do the rest.
Mission Statement:
We are God's children in the Holyland striving to welcome one and all.
We welcome new parishoners.
Please call the Parish Offices.
920-753-3311 or
920-795-4316